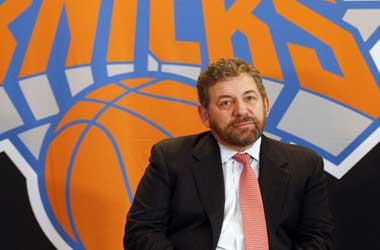 It's not everyday that one gets the opportunity to purchase an existing NBA team. However, it appears that the New York Knicks could very well be on the market after James Dolan confirmed that he would indeed considering selling the Knicks provided he received a genuine offer.
Dolan owns the New York Knicks and NHL Franchise – the New York Rangers. The billionaire is also the chairman of the iconic Madison Square Garden (MSG) and is willing to put his NBA franchise up for sale if the offer is right.
He admitted that there have been feelers sent out in the past of those expressing an interest in purchasing the Knicks. Their offers have been over $5 million but none of those offers so far have been serious offers and hence why Dolan hasn't proceeded with a sale.
He admits that while he loves both the Knicks and the Rangers, he also has a commitment to his shareholders and must do what is right for the company.
ESPN
Personal And Professional Views Differ
The 63 year old New York native said that he was caught between two views. He personally did not want to sell the Knicks but as the head of a public company it was his responsibility to be transparent and do what is right for the company. Dolan's family members are majority shareholders and hold the majority vote in the decision to sell or retain the Knicks.
In a statement, Dolan said
As the head of the public company, you can't say you can't sell, because then you're telling your shareholders that your own personal feelings about your assets are more important than their money. And they won't invest with you if you do that
New York Knicks Continue To Struggle
The Knicks have struggled during the last two decades and have an unenviable record of going through twelve head coaches and seven presidents in this tenure. The last head coach was the legendary Phil Jackson who also failed with the Knicks finishing a three year stint with a record of 80-166.
The Knicks have once again struggled this season and are in 12th place on Eastern Conference points table. The Knicks have played 32 games so far, winning just 9 of them and losing 23. Their next game is on December 20 when they take on the Philadelphia 76ers.