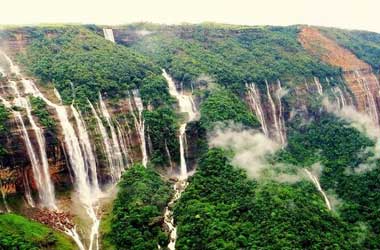 Meghalaya is one of the smaller Indian states that is best known for its tourism industry. India was one of the top five countries to be hit hard by the COVID-19 pandemic that brought about a complete lockdown throughout the country for months.
The smaller states like Meghalaya that depended heavily on tourism to boost its economy took a major hit and is still struggling to recover.
The government is looking at new ways to boost its struggling economy and has turned towards the lucrative online gaming market to create jobs and a new revenue stream.
The Meghalaya government had previously held discussions on legalizing online gambling but did not make a decision on the matter due to both political and religious reasons.
However, the Meghalaya Regulation Of Gaming Ordinance 2021 was tabled and the government was welcome to the legalization of online gambling.
The finance and legal departments in Meghalaya were consulted over the Meghalaya Regulation Of Gaming Ordinance 2021 and both departments gave their approval. Chief Minister Conrad K Sangma was happy to get the bill approved and confirmed the same via a Tweet in which he tagged the Finance Minister of State.
To regulate gaming within #Meghalaya and to bring revenue to the State Government, Cabinet today approved the 𝐌𝐞𝐠𝐡𝐚𝐥𝐚𝐲𝐚 𝐑𝐞𝐠𝐮𝐥𝐚𝐭𝐢𝐨𝐧 𝐨𝐟 𝐆𝐚𝐦𝐢𝐧𝐠 𝐎𝐫𝐝𝐢𝐧𝐚𝐧𝐜𝐞, 𝟐𝟎𝟐𝟏. @nsitharaman @FinMinIndia pic.twitter.com/ortFfaC97p

— Conrad Sangma (@SangmaConrad) January 14, 2021
All iGaming operators wishing to provide services in Meghalaya will now have to obtain a license from the state government to do so. CM Sangma confirmed that if any iGaming operator continued to offer services without obtaining a license, strict action will be taken against them.
The government is expected to release more information short on the online casino license process, licensing fees and gaming regulations that will govern the industry.
Could More States Follow Meghalaya?
Online gambling legalization became a hot topic in India during 2020 mainly due to the lockdown. Indian players flocked to offshore gaming sites during the lockdown and this caught the attention of a number of anti-gambling groups.
Gambling opponents filed public interest litigation (PILs) in court asking different state governments to take action against online gambling operators as most India states do not have legalized gambling. State courts in Andhra Pradesh and Tamil Nadu instructed the state government to either legalize online gambling or ban online gambling, because an unregulated market put Indian players at risk.
Andhra Pradesh and Tamil Nadu went on to ban online gambling in 2020. However, now that Meghalaya has approved online gambling, will other states like Karnataka and Kerala push forward with online gambling legalization?