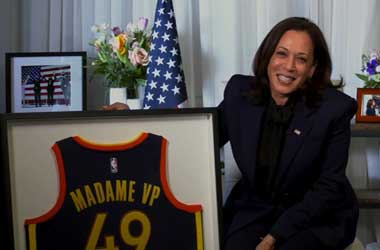 Joe Biden has been sworn in as the new President of the United States and Kamala Harris has been sworn in as the 49th Vice President (VP). The exit of President Trump has made a number of NBA players and franchises happy, most notably the Golden State Warriors.
The Warriors have sparred with Trump throughout his presidency, avoiding visits to the White House when they won the NBA championship during his tenure. NBA All Star Stephen Curry has been one of thebigger critics of President Trump.
Golden State Warriors wasted no time in making their feelings clear on the inauguration of Biden and Harris. The NBA franchise put together a special video message to congratulate VP Harris who is the first female VP in American history.
The video shows Stella, a young lady wearing a Warriors Jersey with the number 49 sharing her thoughts on how inspired she is that Harris is the 49th VP. The video finishes with Stephen Curry signing the Jersey and offering VP Harris a few words of advice.
Oakland's own. pic.twitter.com/j5dTtU1n2i

— Golden State Warriors (@warriors) January 20, 2021
Curry jokingly addresses VP Harris and says that he is not suggesting that she should put up the signed jersey in her new Presidential office and then closes by saying that if she does put it up, it will be a good idea!
VP Harris was quick to appreciate the support of the Warriors. She said that she would proudly display the Warriors jersey in her office.
NBA Forbids Hugs and Handshakes
The NBA continues to take significant measures to keep its players safe and prevent COVID-19 from spreading in the NBA. The league was disappointed to see a number of players disregard its special operating procedures (SOPs) with regards to players celebrating by hugging and handshakes.
The NBA has decided to enforce this ban now by bringing in security personnel to the midcourt area to discourage players from going in for hugs and handshakes when they play. The NBA has already issued an official memo on 20 Jan informing all NBA franchises of the new rules in play.
During pre-game and warm up routines, both teams will be required to stay in their respective halves. Post-game extended conversations have also been banned and will be enforced by security personnel. NBA players are only allowed to fist pump and touch elbows.