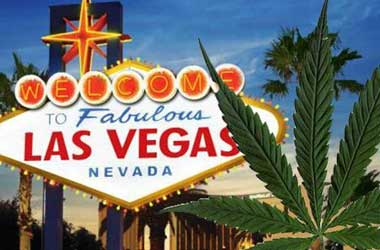 The special 12 member Nevada Gaming Policy Committee which was formed by Gov. Brian Sandoval will meet on Nov 29 at the Clark County Government Center to hear arguments and presentations for numerous stakeholders from the state's casino industry, marijuana industry, legal and tax consultants as well as security and compliance experts.
The Gaming Policy Committee was established to review complex issues and policies that the casino industry has to confront and deal with from time to time. The current predicament for Nevada's casino industry is that the state government has legalized the use of recreational marijuana earlier this year but the federal government does not permit marijuana to be consumed in any form at casino properties which come under federal jurisdiction.
The state gaming regulator had earlier sent out letters to all licensed casino operators in the state informing them that they cannot allow any of their patrons to consume marijuana at their properties. There are many lawmakers and US casino operators who have objected to this stance as they feel that the casino industry is losing out on a lot of revenue by closing its doors to the marijuana industry.
The marijuana industry is now one of the fastest growing industries in the state as both international and domestic tourists travel to Las Vegas to play at the casinos and smoke pot freely. However, that's not possible current the current gaming regulations. Casino operators also depend heavily on revenue generated from conventions and meetings that are held at their premises.
The recent Marijuana Business Conference and Expo saw more than 700 vendors set up trade booths and over 10,000 people in attendance. Nevada casino operators are unable to open their doors to this lucrative market since the gaming regulator does not allow them to endorse or help promote the consumption or sale of marijuana.
The Gaming Policy Committee will listen to presentations from Cassandra Farrington who heads Marijuana Business Daily, Tony Alamo, Nevada Gaming Commission Chairman, A.G. Burnett, Chairman Nevada State Gaming Control Board, Kile Porter and Deonne Contine of the state Department of Taxation, Station Casino senior executives Paul Camacho who oversees anti-money laundering compliance, ex-Clark County Sheriff Bill Young who oversees compliance and security.
The special committee will review all of the presentations and facts put before them and then decide if they need to meet again to finalize a report before submitting their findings and recommendations to Gov. Sandoval and his team for review.