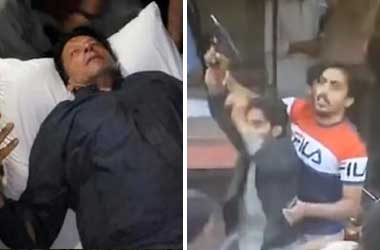 Summary
Imran Khan gets struck by bullet in attempted assassination
Pakistani current and ex-cricketers condemn assassination attempt
Ireland women's cricket team will continue to play in Pakistan
Imran Khan, who is the former World Cup (1992) winning captain for Pakistan is loved by millions around the world as a player.
In his home country of Pakistan, he is also loved as a player but not necessarily as an individual.
There were many in Pakistan who were miffed when he became the Prime Minister of Pakistan in 2018. Khan was ousted as PM of Pakistan in April 2022 and since then has campaigned hard to call for a re-election.
Khan was campaigning in Wazirabad, Punjab towards the capital city of Islamabad. TV footage shows that the former PM was standing on a big container truck with some of his other party members when shots were fired. There was chaos when the shots were fired and footage shows that they were not prepared for such an attack.
Nine people were injured in the attack including Imran Khan and one individual lost their life. Khan suffered an injury to his shin and was rushed to the hospital where he was treated for non-life threatening injuries.
The individual responsible for firing the shots was captured and is said to have admitted that he wanted to assassinate Imran Khan.
Pakistani Cricketers Condemn Attack
Pakistan is currently playing the T20 World Cup in Australia. Pakistan's captain Babar Azam took to Twitter to strongly condemn the attack.
Strongly condemn this heinous attack on @ImranKhanPTI. May Allah keep Kaptaan safe and protect our beloved Pakistan, Ameen.

— Babar Azam (@babarazam258) November 3, 2022
Imran Khan's former fast bowling partner and former Pakistani captain Wasim Akram said he was deeply disturbed by the attack and sent out prayers to "Imran Bhai".
Deeply disturbed about the events unfolding in Wazirabad . Our prayers with Imran BHAI and everyone there. We as a country must come together and not allow anyone to distort our national unity.

— Wasim Akram (@wasimakramlive) November 3, 2022
Former quick Shoaib Akhtar also tweeted and provided an update on Imran Khan saying that he is now doing fine and is in good spirits.
Heard about the attack on @ImranKhanPTI . Alhamdolillah he is fine and in good spirits. This clip of him is from after the attack.

I strongly condemn the attack. pic.twitter.com/VeFxFIYf8p

— Shoaib Akhtar (@shoaib100mph) November 3, 2022
Ireland Women's Cricket Team To Continue Tour
The women's cricket team from Ireland are currently in Pakistani and are set to play a 3 match ODI series and a 3 match T20 series, you can find the latest Cricket odds from our selected betting sites. There were concerns in the Irish camp when news broke of the assassination attempt on Imran Khan.
Cricket Ireland released a statement and said that they were in discussions with Pakistan Cricket Board and security services. As of now, the tour is set to continue unless there are further developments.