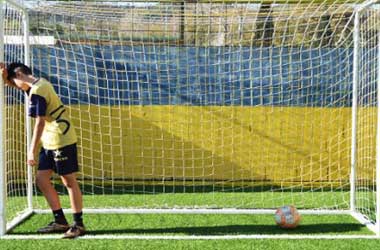 A survey conducted by the global football players' union FIFPro has found that footballers with symptoms of depression have increased twofold since mainstream sports events shut down worldwide.
The FIFPro study consisted of data gathered from 1,602 professional footballers—1,134 male and 468 female between March 22 and April 14. The players were from 16 countries, including England, Ireland, and Scotland, all of whom have already enacted drastic social distancing measures to slow the infection rate of the coronavirus. Some of these measures included home quarantines, suspensions of live mainstream sports events, and business lockdowns.
The survey found that 22% of women and 13% of men exhibited markers consistent with depression. Furthermore, the study also revealed that 18% of women and 16% of men showed symptoms associated with general anxiety.
The rise in symptoms contrasts with the study conducted by FIFPro earlier between December 2019 and January 2020. The study, conducted before the football cancellations, had a sample size of 307 footballers only 11% of women and 6% of men showed signs of depression back then.
Key Factors: Social Isolation, Economic Worries
FIFPro noted that players were more likely to exhibit symptoms of depression or anxiety if they were experiencing uncertainty about their football careers. Despite the financial security enjoyed by most top-flight talents in the sports, average football contracts worldwide generally cover just two years. Consequently, most footballers are facing just as much financial worries as most people.
Other factors may also play a role in the increase. The mean age for FIFPro's study was 26 years for the men and 23 for the women. As young adults living alone in foreign lands due travel bans, they may be more susceptible to mental health issues due to their social isolation.
Reassuringly, at least 75% of the study's subjects had sufficient access to mental health support. Nevertheless, FIFPro is working on a toolkit that will help provide primary care for their members' mental health.
FIFPro Not Calling for Immediate Resumption
FIFPro has emphasized that the decisions facing football authorities regarding the eventual resumption of games come with a degree of social responsibility, not just economics.
Jonas Baer-Hoffmann, FIFPro's general secretary, stated the study's findings point to the need for cooperative agreements between football stakeholders to ensure that everyone is protected. Baer-Hoffman also added that the study's worrying findings should not be taken as a call to resume the football season immediately, but as a call to protect players' needs!