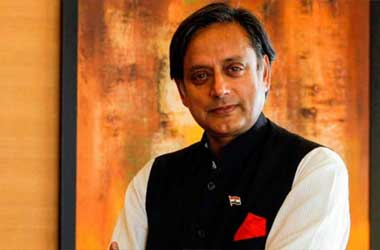 Dr. Shashi Tharoor, a senior Congress MP has introduced the Sports (Online Gaming & Prevention of Fraud) Bill, 2018 to the Lok Sabha. The bill will look to legalize sports gambling across the Indian market and also ensure that the integrity of sports is maintained within the newly regulated market.
The Bill focuses mainly on two key issues. The Bill wants a special gaming 7 member gaming commission to be formed who will be responsible for governing the online sports gaming market. The second part of the Bill looks at maintaining the integrity of sports and now allowing any sporting event or match to be compromised to due to match fixing or any other form of sports fraud.
The Online Sports Gaming Commission's job will be to license and regulate all online sports gambling in the country. It will also work with law enforcement to crack down on illegal sports betting operations and to determine whether any sports fraud is happening at various sporting events.
According to the Bill, online sports gaming is defined as placing a bet on the whole or partial outcome of a game via a telecommunication device. This includes mobile devices like smartphones to desktop computers. This will be massive for India which has a population of over 1.3 billion who are very keen on their sports.
Online Sports Gaming Commission
Under the Bill, the Online Sports Gaming Commission will be allowed to set rules and restrictions on any betting on sporting events. This is to help ensure that people will only wager on a match within a limited and safe framework. The potential restrictions that the commission can place include the banning of minors from playing, placing a maximum charge for betting fees, limiting access to credit for wagering.
The Bill will also allow the government to allow Foreign Direct Investment (FDI) to online sports gambling websites. This can include tech collaborations to improve their performance and revenue. This can be a big help to modernize and expand their sports betting operations.
MP Tharoor has been a controversial figure but believes that it is time for India to move forward with sports betting. The Bill will only become a law if he can get the necessary support from the Parliament but that can be tough given the fact that the Congress is not the ruling party and just about every form of gambling is frowned upon by ruling BJP government.