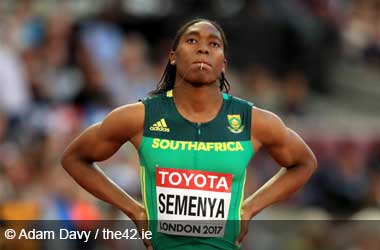 The International Association of Athletics Federations (IAAF) made a decision on an appeal filed by Olympic Champion Caster Semenya who challenged the Federations decision to force women to reduce their testosterone levels before competing in certain events like the Olympics.
Caster Semenya is a South Africa track star that won the gold medals in the 800m races at the 2012 and 2016 Olympics. She was also set to defend her World Championship at Qatar during the month of September.
Semenya will only be allowed to participate in the World Championships if she is able to show a reduction in her testosterone levels.
Caster Semenya started to make headlines around the world back in 2009 when she took part in the World Championships. There were many who questioned her gender and performances against female athletes. She was subjected to sex tests which caused the South African athletics association to raise concerns over racism.
CBC News: The National
The IAAF has specifically focused on the 800m race as they believe that increased testosterone can give a female athlete an unfair advantage over the rest of the competition. However, the same rules are not applicable to the 1500m race as they don't believe higher levels of testosterone can have a major impact. This ruling could pave the way for Semenya to skip the 800m event and focus on the 1500m event.
As of now, Semenya has decided to not comment on the ruling and her social media says that sometimes no reaction is the best reaction.
IAAF Rules Discrimination Is Sometimes Necessary
The panel for the Court of Arbitration of Sport reviewed the IAAF's decision and determined that the IAAF's rules regarding athletes who had differences of sex development was indeed discriminatory but they stated that it was necessary. This 3 judge panel also dismissed the appeals from the IAAF and Caster Semenya.
The panel made a 2-1 decision and released a statement which said
On the basis of the evidence submitted by the parties, such discrimination is a necessary, reasonable and proportionate means of achieving the IAAF's aim of preserving the integrity of female athletics in the Restricted Events.
The IAAF proposed rules on major events such as the Olympics will certainly cause an outcry on social media amongst the LGBTQ community. With the gender fluidity movement getting a big push, the IAAF ruling comes as a major slap in the face to the movement!