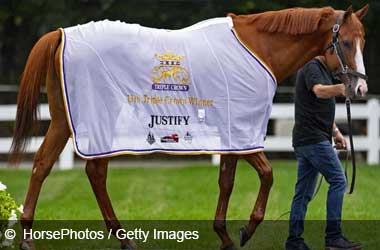 Thoroughbred racehorse Justify completed the coveted Triple Crown in June 9, 2018 as he emerged supreme in the 150th edition of the Belmont Stakes – cheered on by a packed crowd and championed by Hall of Fame trainer Bob Baffert. However, new details have recently come to light, rendering the colt's ascendance into legendary status questionable.
The prestigious Triple Crown is a title awarded to racehorses who manage to clinch the Kentucky Derby, Preakness Stakes, and Belmont Stakes trophies during their career. Justify was only the 13th horse to achieve the feat and his historic crowning celebrated to much fanfare by a raucous Belmont Park. More than a year later, Justify's legacy is being tarnished by the emergence of a failed drug test.
Just weeks before the kickoff of the 2018 Kentucky Derby, Justify allegedly tested positive for the banned substance scopolamine, during a routine drug test carried out after he won the Santa Anita Derby. Scopolamine is a performance-enhancing drug forbidden by the California Horse Racing Board.
CBS Los Angeles
This should have meant Justify's automatic disqualification from upcoming Derbies, but the prize-winning colt was allowed by the Board to compete nonetheless, as it investigated the doping scandal. The board decided to keep the failed drug test under wraps. The California Horse Racing Board (CHRB) reportedly took more than a month to ratify the results of the tests – only nine days shy of the Kentucky Derby.
However, instead of striking out Justify's recent victories, forcing Baffert to forfeit his winnings, and banning the horse from all impending races, the Board chose to not file a public complaint and dropped the case altogether. The failed drug test was assumed to be caused by Justify's possible consumption of contaminated food.
The body then subsequently began taking steps to ease penalties against horses found doping with the illegal substance Justify tested positive for. The penalty for a scopolamine violation now stands as just a minuscule fine and the threat of possible suspension.
Justify went on to finish his monumental run, before being retired by Baffert and auctioned off for $60 million. The Board reportedly disposed of the inquiry altogether after a closed-door executive meeting.
Baffert Has Links To Powerful People
The executive director of the CHRB Rick Baedeker acknowledged that the case puts the board in a tough situation because of the timing of how things played out. What must be pointed out is that CHRB chairman Chuck Winner allegedly has a stake in Justify's career, as he owns an interest in the racing roster of Baffert.
The decorated horse trainer's other partners include billionaire Kenny Troutt who owns the WinStar Farm in Kentucky, billionaire financier George Soros and the China Horse Club.