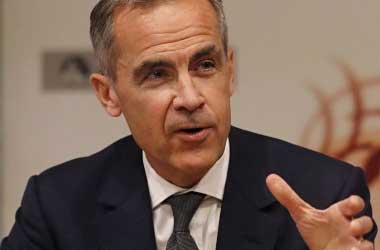 The Governor of the Bank of England (BOE), Mark Carney, has slammed the meteoric rise of cryptocurrencies. This was not a surprise as he has been vocal against digital currencies in the past. He said that huge moves thanks to volatility, like Bitcoin, were "speculative mania." The expenses to mine Bitcoin are "enormous."
However, he said that bitcoin and other digital currencies pose "no material risk" to financial stability. For now.
In his speech to the Scottish Economics Conference held at Edinburgh University, given via video thanks too inclement weather conditions, the BOE chief said that the time has come to:
"hold the crypto-asset ecosystem to the same standards as the rest of the financial system."
Carney said that "elements" of this ecosystem should be regulated in order to "combat illicit activities." He argued that this would promote market integrity as well as protecting the safety and soundness of the financial system.
Even at the peak, with the cryptocurrency market, the overall market capitalization was less one percent of global gross domestic product. They are "small relative to the financial system. Even if they grew exponentially in 2017," he said.
Carney feels that Volatility with Cryptocurrencies is a Problem
Looking at the hectic volatility, Carney noted that the "average volatility" of the top 10 cryptocurrencies by market capitalization "was more than 25 times" that of the U.S. equities market last year. Bitcoin was also one of the more stable cryptocurrencies. Suffice to say, that coin was very volatile in 2017.
"This extreme volatility reflects in part that cryptocurrencies have neither intrinsic value nor any external backing. Their worth rests on beliefs regarding their future supply and demand – ultimately whether they will be successful as money," he said.
Carney, is a former Goldman Sachs banker and is also Chairman of the G20's Financial Stability Board (FSB). He told the conference in Edinburgh that energy consumption, of mining these coins, is troublesome. He said that the current costs of electricity consumption used to mine digital coins are "double the electricity consumption of Scotland."
The Cost of Mining Digital Coins is Prohibitive
The cost to mine cryptocurrencies is currently estimated to be nearly 52 terawatt hours. This more than doubles the current consumption of Scotland. To compare things, the Visa credit card network uses a half of one percent of what bitcoin uses and it processes 9,000 times more transactions than bitcoin.
Carney's speech was entitled The Future of Money and he said that that cryptocurrencies do not pose a risk to the economy. He did warn, however, that authorities should be careful not to "stifle innovations."
During his speech, he did speak about regulating this new industry as it gains traction and popularity around the world. Carney said that "isolation risks foregoing potentially major opportunities from the development of the underlying payments technologies."
He noted that "a better path would be to regulate elements of the crypto-asset ecosystem to combat illicit activities, promote market integrity, and protect the safety and soundness of the financial system."