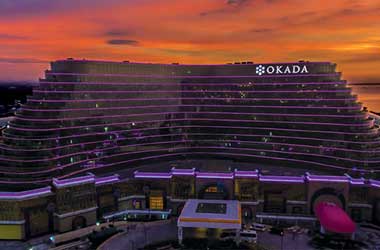 Summary
Universal Entertainment looks to stabilize operations at Okada Manila
Financial impact during last 3 months on Okada Manila to be reassessed
TRLEI Schedules Board Meeting this week
Japanese conglomerate Universal Entertainment Corp will try to get operations back to business as usual at the Okada Manila resort in the Philippines.
Universal Entertainment released a statement after the Philippine Amusement and Gaming Corp (Pagcor) restored the group's control of the resort property.
Universal Entertainment added that it would also reassess the financial impact on Okada Manila in the past three months. Previously, a group linked to Tiger Resort, Leisure and Entertainment Inc.'s (TRLEI) ousted founder Kazuo Okada 'violently' occupied the resort premises. Okada was removed from TRLEI in 2017 due to misappropriation of funds. Later, the Philippine Supreme Court reinstated him as the director. The order also restored the TRLEI board to how it was before Okada's removal.
TRLEI had alleged that a group of 50 police officers and private security guards, led by former board member Dindo Espeleta, stormed into the resort on May 31. After the occupation, the company claimed that the group refused to show any proof authorizing its actions. According to TRLEI, nothing in the cited court order allowed Okada to occupy the resort in any way.
On 4 September, Universal Entertainment said that it had reclaimed the operations at Okada Manila after Pagcor overturned its previous recognition of the Okada-associated board as the controller of TRLEI. Okada used the Pagcor recognition to assert and legitimize his control over the resort. Universal alleged in its Monday statement that the group associated with Okada had wrongfully seized assets, destroyed crucial documents, and dismissed several employees at Okada Manila.
Despite its criticism, Universal said it would honor the Supreme Court order. Okada will remain the director, chairman, CEO, and stockholder of TRLEI. The conglomerate decided that the Japanese billionaire would continue his stint till the Supreme Court takes a call on the resort ownership dispute. The decision of the court is expected in the latter part of 2022.
TRLEI Schedules Board Meeting
The reinstated board of TRLEI announced on September 5 that the board of directors, including Okada, would meet on September 7. The resort's operator looked forward to Okada's participation in the meeting and hoped that Okada Manila would return to normal.
The TRLEI board also announced that the group members who occupied the resort would be barred from entering it. The list of prohibited entrants includes Antonio Cojuangco and Dindo Espeleta.