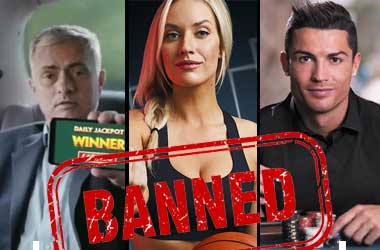 Summary
New rules prohibit operators from using famous sports personalities in their ads
The new changes will be implemented on October 1
CAP says the new restrictions aim to protect under-18s from gambling-related harms
Gambling operators across the UK are now prohibited from using sports celebrities in their advertisements and marketing efforts as part of strict new rules released by the country's Committee of Advertising Practice (CAP).
The new guidelines are aimed at preventing minors from being attracted to gambling.
Under the new rules which are set to take effect on October 1, sports stars, including top-level footballers and those with a massive following among young audiences on social networks, can no longer promote gambling products. This means celebrity endorsements in UK gambling will become a thing of the past.
This covers sports personalities who are well-known social media influencers, vloggers, and streamers with thousands of followers on Facebook, Twitter, YouTube, Instagram, TikTok and other social platforms. Licensed operators are also banned from associating their ads with youth culture through the use of imagery, videos and other content that strongly appeal to persons aged under-18.
Advertisers are also prohibited from utilizing cartoons or video games characters that will stimulate interest among young people.
New Era for Gambling Ads
The new restrictions were introduced in response to the findings of a recent report from GambleAware which found that there's a need to impose more controls on gambling advertisements to reduce their potential to entice young customers, thereby keeping the minors safe from gambling-related harms.
CAP Director Shahriar Coupal said operators should adhere to the new rules or face the risk of getting their ads blocked. He said gambling companies can contact the committee's Copy Advice team if they need more clarification on the type of content that is allowed or prohibited under the new guidelines. Coupal also said they will put in place comprehensive guidance regarding the new rules so advertisers know what needs to be done to remain compliant.
Coupal added further that the new measures will welcome a new era for gambling advertisements where marketing campaigns will focus mainly on adult consumers. The changes will be rolled out across all verticals, including digital publishers and affiliates.
The new tough restrictions will be enforced just a month before the 2022 FIFA World Cup which kicks off in Qatar in November. Gambling operators would traditionally spend huge sums on advertising and marketing campaigns in the lead-up to this major sporting event to draw customers.