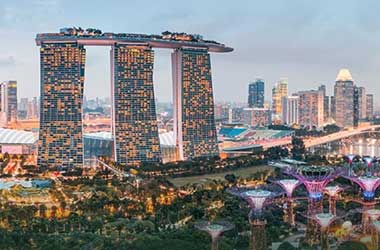 Summary:
The three men applied super glue on their palms to steal casino chips from other players
They carried out their modus operandi at the Marina Bay Sands in Singapore
The trio was eventually arrested, receiving jail sentences of between 7 and 10 months
Casinos are favorite targets for thieves because of the large amounts of money being exchanged. Criminals come up with different ways to steal valuable items and many are able to get away with their unscrupulous activities.
But three Chinese nationals who stole chips at a casino in Singapore ended up being arrested by authorities, resulting in prison terms of between 7 and 10 months. The trio carried out their modus operandi using super glue.
Chinese Trio Stole Chips Using Super Glue
The arrested individuals are friends from China who traveled to Singapore on short-term social visit passes back in March. The passes allowed them to be in the country for just 14 days.
The three men gambled at the Marina Bay Sands as part of their holiday trip with a back-up plan in place in case they failed in their gambling exploits – the trio agreed that if they lost, they would steal chips using super glue.
The three arrived in Singapore on March 6, 2023 and visited the Marina Bay Sands for six days. During those visits, they would carry out their modus operandi – apply superglue on their palms and then steal other players' casino chips. The superglue technique was eventually discovered by one gambler leading to the trio's arrests.
50-year-old Huang Chunsheng was the one who came up with the idea. His companions, Jiang Renjing (55) and Zheng Jiansheng (64), served as his accomplices. Zheng, who has an eye condition, had been assigned to carry the bottles of super glue during their flight to Singapore. If authorities would question him about the bottles, he would tell them they contained anti-infection eye drops.
During their visits to the Marina Bay Sands, the three would bring with them the super glue and then apply it on their palms in the comfort room before starting their games. They played separately at the venue on a daily basis from March 6 to 11 and each stole chips from other customers once their own chips were all used up.
Super Glue Modus Operandi Busted
On March 11, their modus operandi was finally discovered after Huang was caught red-handed by another player. Huang quickly left the venue and told his two conspirators to transfer to the casino at Resorts World Sentosa, where they were latest arrested.
They admitted to stealing S$1,575 worth of casino chips and pleaded guilty to charges under the Casino Control Act. Huang was jailed for eight months, while Jiang received a seven-month sentence. Zheng, who stole the most chips, was sentenced to 10 months.