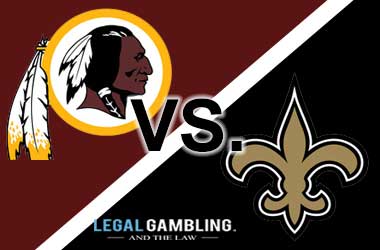 Monday night features 2 NFC teams at the top of their respective divisions. The Redskins lead the all time series 17-9, but the Saints won their matchup a season ago 34-31.
The Redskins are coming off a bye week. Previously, Washington lost 21-9 to the Colts in week 2, and beat the Packers 31-17 in week 3.
The Saints beat the giants 33-18 last week. In week 2, the Saints beat the Browns 21-18, and beat the Falcons 43-37 in week 3.
Oddsmakers currently has the Saints as 6.5 point favourites at home, with an O/U total of 53.
Washington Redskins
Alex Smith continues to be pathologically conservative, but has the Redskins offense playing fairly well. Smith is averaging 8 yards per attempt, and has chosen his deep shots wisely, going 3/7 for 130 yards and a TD on passes traveling 20+ yards downfield. The passing game has been dominated by TE Jordan Reed and RB Chris Thompson, with the 2 combining for 34 of the teams 66 receptions, and 323 of Alex Smiths' 767 yards.
Thompson and Adrian Peterson have formed a nice 1-2 punch in the backfield, with Peterson having a bit of a career renaissance. Peterson has 236 rushing yards on a 4.2 YPC average, and has 3 touchdowns. The Redskins D has been stellar, giving up an average of 14.7 PPG (2nd in NFL), and is only allowing 187.3 Passing YPG (3rd in NFL). Pressure has come from everywhere, with 6 players with 5 or more pressures.
D.J. Swearinger has been a playmaker in the secondary, picking off 2 passes, deflecting 2 more passes, and only allowing 75 yards on 9 targets.
Injuries and Inactive Watch
OT Trent Williams (knee) – questionable, CB Josh Norman (hamstring) – questionable, WR Paul Richardson (shoulder) – questionable, WR Josh Doctson (heel)- questionable
New Orleans Saints
After a slow start, the Saints have played fairly well on both sides of the ball the past 2 weeks. Drew Brees was not asked to do much last week, as Alvin Kamara dominated the Giants D. Brees has still thrown for 1295 yards, 8 touchdowns, and no interceptions on the season. Michael Thomas looks like the best receiver in the league through the first quarter, leading the NFL in receptions (42), slotting in 4th in yards (445), and tied for 4th in TDs with 3.
Alvin Kamara has been a dynamic threat as well, and is 3rd in the NFL in receptions himself. Kamara also has 275 rushing yards, 5 rushing touchdowns, 336 receiving yards, and a receiving touchdown. Cam Jordan continues to be a freak off the edge, tallying 4 sacks on the year. Ken Crawley has been a bit of a liability in coverage, allowing 332 yards on 19 catches and 4 touchdowns thus far.
Injuries and Inactive Watch
WR Ted Ginn (knee) – questionable, RB Alvin Kamara (knee) – questionable, OT Terron Armstead (knee) – questionable, LB Manti Te'o (knee) – questionable
Matchups to Watch
Redskins RB Chris Thompson vs Saints LBs
Redskins RT Morgan Moses vs Saints EDGE Cam Jordan
Saints WR Michael Thomas vs Redskins CBs
Saints OL vs Redskins Pass Rush
Predictions
This has the potential to be a great Monday night game. The Redskins defense is awesome, and should be a fun watch against a high powered Saints offense. The Redskins will play the ball control game, mixed in with some shots downfield, and should find success doing so. The Saints don't really have anyone to matchup with Chris Thompson in the passing game, and Jordan Reed will find success over the middle of the field.
The Saints will continue to ride Michael Thomas and Alvin Kamara, but will be bolstered by the return of Mark Ingram. They can take some of the pressure of Kamara in the run game, and let him return to his slashing mentality mostly in the passing game, and let Ingram salt the clock away with 4 yard gains. Both of these teams have the ability to take advantage of the others deficiencies. Washington can really get after the quarterback, so the Redskins jumping out to an early lead will be huge for them. I think this spread is a bit off, so we are jumping at the chance to take the Spreadskins getting points.
Final Pick: Redskins (+6.5)