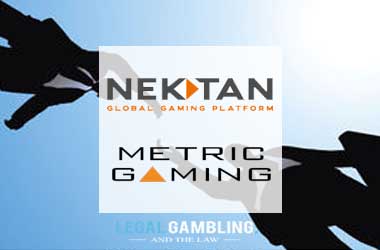 Nektan, a well-known gaming software and services provider is teaming up with Metric Gaming, a developer and provider of mobile sports betting software to deliver a new sports betting platform for the U.S. market.
The deal allows for Metric Gaming LLC and Respin LLC, which are both subsidiaries of Metric and Nektan for the U.S. market to start offering sports betting and horse racing services.
This will be done via Respin's Rapid Games Platform. This is a big boost for Metric Gaming because the Rapid Games platform has met two important certifications.
First is the fact that it an independently certified Class II (Protected Tribal Gaming Category) platform. Next, it is also certified as a Class III On-Premises Bring Your Own Device mobile platform. This makes it unique in the U.S. gambling market. Respin made news in 2017 when the company announced that it would launch its Rapid Games mobile platform at a major California casino.
Nektan's Interim Chief Executive Officer, Gary Shaw, said that with the new Supreme Court ruling which technically allows legal sports betting across the United States, it was a good move to merge the Rapid Games Mobile Casino platform with Metric's sports and racing betting products. This partnership provides both companies with tremendous opportunities.
According to Shaw, the gambling sector will be looking towards a merging of sports betting and casino gaming in the future and it would be beneficial to have a partner to deal with the coming challenges.
Nektan Keen On Entering US Sports Betting Market
Mertin de Knijff, Metric's Chief Executive Officer had a similar opinion. Since the Supreme Court struck down the PASPA law, Knijff is looking forward to entering the US sports betting market which has enormous potential.
In a statement, de Knijff said
We are impressed by the Rapid Games platform, and believe that its multi-device approach gives our state-of-the-art horse racing and sports betting counterparts a price and functionality advantage over legacy based competitors in both the retail and iGaming spaces.
This move is just the latest one for Nektan as it welcomed new members to senior positions. Earlier this month Michael Byrne was appointed to lead the company's white-label enterprises while Jane Ryan was promoted as B2B Chief Operating Officer. The announcement of this partnership is good news for Nektan. Its shared soared up by 40%, in expectation of the company's breaking into the relatively new U.S. sports betting market.