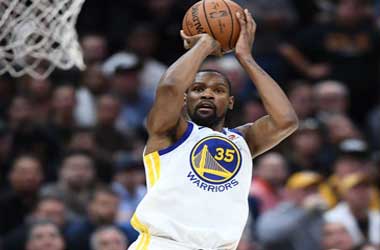 Summary
Brooklyn Nets yet to work out trade deal for Kevin Durant
Sources claim that Durant could make a return to GSW
Nets keen on getting two All Star players in place of Durant
When Kevin Durant (KD) informed the Brooklyn Nets that he wanted to be traded, a lot of NBA franchises were interested in signing the 12 time NBA All Star.
However, very few teams will be able to work out a deal to get KD on board.
GSW In Talks To Get KD Back
KD was part of the core team of the Golden State Warriors (GSW) before he decided to pack up and leave to the Brooklyn Nets. His time with the Nets has not been as fruitful as he would have liked and it looks like he may just end up going back to his old team.
GSW are the current NBA Champions and have done well this season without the services of Durant. GSW continue to rely heavily on Stephen Curry and Klay Thompson but with the addition of KD, GSW go to another level and will definitely enter the new season as strong betting favorites to win back to back NBA Championships.
Steph Curry has so far not made any comment on whether he would like KD back in the team but he has also not come out and said that he does not want KD to comeback!
Nets Pushing For Two All Star Players
While most teams would love to sign KD, not everyone has the budget to do so as the Brooklyn Nets are asking for a heavy price to trade KD. This is one of the reasons why there are just a handful of teams that are in a position to work out a deal with the Nets to get KD.
ESPN suggests that the Nets are looking to get two All Star players in exchange for KD. The Warriors are currently one of the teams at the discussion table as reports suggest that the Warriors are not worried about the price tag when it comes to resigning KD.
Should the Warriors go after KD, they will most likely have to give up the likes of Moses Moody, Andrew Wiggins, Jonathan Wiseman or Jonathan Kuminga. The Warriors signed these players after KD left them in 2019 and were planning to build a team around these young players. GSW will have to abandon those plans to get KD back!