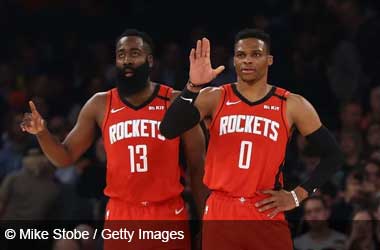 The Houston Rockets has made a number of key changes during the off-season and plan to make a few more before the new NBA season starts. The Rockets have seen their General Manager (GM) Daryl Morey and head coach Mike D'Antoni depart and have replaced them with new head coach Stephen Silas and promoted Rafael Stone to the new GM post.
These big changes to the support staff have not gone down well with two of the key players in the Houston Rockets. James Harden and Russell Westbrook have been vocal about their concerns regarding the direction in which the Houston Rockets are going and have expressed doubts regarding their future with the rockets.
This will be a concern for owner Tilman Fertitta since Harden has been a mainstay at the Rockets during the last 8 seasons. The Rockets have been trying to build a team around Harden and win an NBA Championship during the last 8 seasons but have continuously fallen short.
ESPN
The Rockets management are looking to make more changes and become a bigger force during the next season. Those changes are concerning to both Harden and Westbrook who joined the Rockets last summer. Rockets management consulted these two All-Stars before hiring Stephen Silas and got their okay before bringing him on board.
It appears that the concern is over the upcoming decisions that the Rockets management is going to make. The Rockets know they need to get another All-Star working together with Harden and Westbrook to win an NBA Championship. They brought in Dwight Howard in 2013 and Chris Paul in 2017 but the experiment did not work.
Whoever they decide to go after needs to gel well with Harden and Westbrook or one or both of these players could pursue free agency.
Harden Keen To Finish With The Rockets
James Harden has said in the past that he hopes he can finish his career with the Houston Rockets. The 31 year old was named the Most Valuable Player (MVP) in the league in 2017-2018 and has been nominated for the award on six different occasions. Harden has another three seasons with the Rockets on a $131.5 million contract.
Westbrook also has three seasons remaining with the Rockets and is on a similar $131.5 million contract. Both players are keen to see the Rockets bring in someone who can help them achieve their goal of winning an NBA Championship next season.