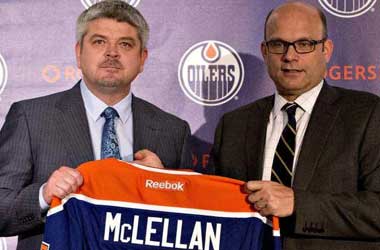 The Edmonton Oilers started the season with high expectations but those hopes have fizzled out quickly due to a string of poor performances. Oilers general manager Peter Chiarelli is no doubt disappointed with the Oilers but he isn't going to be taking any rash decisions like some of the other NHL franchises.
Chiarelli made it very clear that as of now he has no intention on firing struggling head coach Todd McLellan and his staff. When any sporting franchise has a string of poor performances, the head coach always has his head on the chopping block. However, Chiarelli has given McLellan breathing space by announcing that he still supported McLellan and his staff and looks forward to continue working with them and turning things around.
If Chiarelli wants to save the Oilers season then he and McLellan will have to work on the team soon and fast. The team has been a shadow of what it was last year, and the chances of making the playoffs are looking more and more grim with each loss.
The Oilers were able to get their record back to .500 with a surge of wins before the Christmas holiday. However, since then the team has seen a streak of poor play which has caused them to lose six out of the last seven games. They were outscored 28-10 in the last seven games which is a clear indication as to how poorly they have performed.
If we get down further into the Oilers performance, things look even worse. Taking the last five games into consideration, the Oilers have been outscored 20-4 and have ended up losing each game by an average of 3 or more goals. The most glaring cause of this slide that needs to be addressed is penalty killing. As of this writing the Oilers rank 31st in the league in killing penalties, and have a penalty kill percentage of less than 75 percent.
In a statement, Chiarelli said
Everyone is under evaluation, including myself. We've had our challenges from a coaching perspective, and we've had our challenges from a player personnel perspective. We went into the season with certain expectations, and we're not even close to them.
Oilers fan tend to believe that some of the poor performances are due to the injury of defender Andrej Sekera and the loss of Jordan Eberle who was traded to the New York Islanders. The Oilers will take a break for the All-Star game and will have very little time to turn things around and see if they can make the playoffs.
Did the Edmonton Oilers make the right decision? Will Todd McLellan be able to turn around the results? Let us know below… Don't forget to checkout the latest NHL betting odds.