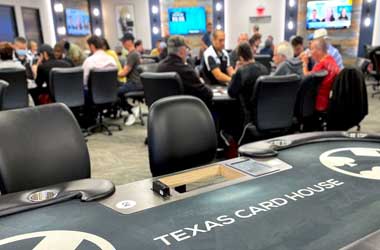 Summary
Dallas City Council is attempting to close existing poker rooms
Officials changed their stance after strong opposition from the community
Rooms will likely continue to operate after the BOA ruling on the Texas Card House
In 2020, the Texas Card House became the first poker room to be approved by the Dallas City Council. The club, located near Valley View Center in North Dallas, had courted the council for over a year before it was finally given the green light.
But in January 2022, the room was suddenly told it should close its doors as it was operating illegally.
Poker's Legal Status in Texas Remains Vague
The revocation of Texas Card House's license by the city council raised some eyebrows within the poker scene not only in Dallas but across the state. Gambling is illegal in Texas but poker clubs are allowed so long as they don't collect any rake. So instead of charging rake, the rooms operate by requiring players to pay a membership/seat fee.
At the moment, the poker market in many cities and areas across the state, including Austin and Houston is doing just fine – private clubs run poker games and tournaments without fear of prosecution. But the same cannot be said for poker rooms in Dallas after the city council made a U-turn on its poker house stance. The city council has stopped granting permits to poker operators since 2021 and now wants to shut down existing rooms.
Anti-gambling groups and some residents have welcomed the move, maintaining that the city council shouldn't have issued those permits in the first place. When Dallas began allowing poker operators to do business in the city, concerns were raised about the negative impact these poker rooms would have on the homes and communities nearby.
Things probably started to sink in for city officials when Far North Dallas residents last year blocked a poker room from operating in their neighborhood
Is It Too Late Now?
Now, city council officials appear to admit that they have misinterpreted the law, and while they're currently attempting to correct things, that does not make them immune to legal actions from the affected poker room owners. So far, three lawsuits have been filed against the council after reversing its stance on poker rooms.
It may be too late now for Dallas City officials to clean up the mess they've made themselves.
In March, the Board of Adjustment (BOA) ruled in favor of Texas Card House on the license revocation issue, asserting that the room is operating within the law. Board members claimed the city council's U-turn was either due to political reasons or public backlash. Whether the Dallas City Council likes it or not, the board's decision will have some bearing on the future of poker rooms in the city.