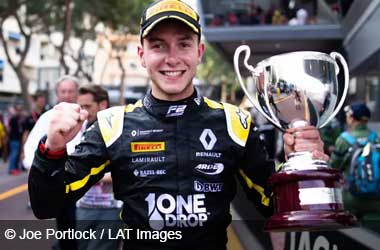 A horrific 160-mph crash claimed the life of 22-year-old Formula Two racer Anthoine Hubert over the weekend, after his car collided with the car of Ecuadorian-American driver Juan-Manuel Correa at the F2 feature race in Spa-Francorchamps, Belgium.
According to the motorsport governing body Fédération Internationale de l'Automobile (FIA), the Frenchman collided with Correa's car as they were gaining uphill momentum on Lap 2 at the high-speed Spa-Francorchamps circuit, after Hubert seemingly lost control of his vehicle.
The heavy crash severed both drivers' cars in two, with the 20-year-old Correa's vehicle found flipped upside down.
Hubert's car was mangled after spinning around violently from the solid impact. Emergency medical crews promptly responded to the scene, as other drivers swerved to avoid the wreckage, on the tree-lined 4.3-mile circuit located inside the Ardennes forest. The race was eventually canceled a few minutes later to give way to the recovery team.
Sky Sports F1
FIA announced that Hubert succumbed to his injuries around 18:35 local time. Correa is being treated at the Centre Hospitalier Universitaire (CHU) de Liege hospital and remains in a stable condition.
A feeder series for Formula One, the FIA Formula 2 is a one-make championship involving up to 22 identical cars, seen as a final step for racers before moving on to the F1 ranks.
Motorsport Community Mourns Hubert's Sudden Death
Hubert raced under the British-owned Arden team, helmed by Garry Horner and his father Christian Horner who is the Team Principal for Formula 1's Red Bull Racing.
Christian Horner lauded Hubert's winning potential, touting him a star of the future as he had already won races in France and Monaco in his rookie season this year. The Red Bull boss also underscored Hubert's untimely death as a testament to the cruel reality of motorsports and racing.
McLaren also offered its condolences to Hubert's family and loved ones, as well as to his colleagues at the Arden team.
Mercedes star Lewis Hamilton wrote on Twitter that he was devastated by the accident, offering his thoughts and prayers to Hubert and his family. Hours before the incident at Spa-Francorchamps, the five-time F1 champion qualified third on the same track. Hamilton had also crashed into the tire-barriers during the third and final practice in Belgium.
Devastating news. God bless your soul Anthoine. My thoughts and prayers are with you and your family today 🙏🏾😔

— Lewis Hamilton (@LewisHamilton) 31 August 2019
The young French racer was a member of the Renault Sport Academy and was billed as the next French hopeful in line for an F1 seat.