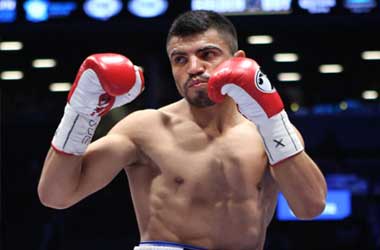 Victor Ortiz was set to headline the Premier Boxing Champions event that was scheduled to take place on Sunday, 30 September. Fox Sports 1 is covering the event which has Ortiz taking on his ex-sparring partner John Molina. That fight will no longer take place as Ortiz was arrested by the authorities in California for alleged rape and the fight has been pulled from the card.
The co-main event which is a fight between Oscar Escandon and featherweight challenger Brandon Figueroa will most likely be given main event status.
The woman who filed the charges claims that she was assaulted and raped at her home in Tarzana and Ortiz was identified as the suspect. So far no statement has been made by Ortiz or his team in regards to the allegations.
In a statement, the police said
A female adult contacted Oxnard police to report she was sexually assaulted in a city residence, launching a criminal investigation by the department's family-protection unit that culminated in the arrest
The boxer posted bond for $100,000 and there were talks that he would still get to headline the card on Sunday. However, those plans were scrapped and Ortiz will not be fighting anytime soon. He is scheduled to appear on October 10 at the Ventura County Superior Court for a hearing.
Ortiz Loses Out On A Great Opportunity
The fight on Sunday was a great opportunity for Ortiz to get back to his winning ways. He stole the limelight back in 2011 when he fought Andre Berto and put up a thrilling fight which would go on to win 'Fight of the Year'. Ortiz won that fight and would go on to fight Floyd 'Money' Mayweather.
Golden Boy Boxing
The fight against Mayweather had a controversial ending and clips still circulate on Instagram. Ortiz head-butted Mayweather on purpose during the fight and then tried to apologize. While he was apologizing, Mayweather hit him twice in quick succession and put him down. That started a downward spiral in Ortiz's career and since then he has had 7 fights with 3 wins, 3 losses and 1 draw.
This isn't the first time that Ortiz has got into trouble with the authorities. He was arrested after assaulting an individual at a Kenny Chesney concert. He was looking to get back into the spotlight with a win over his former sparring partner Molina but that did not go as per plan.