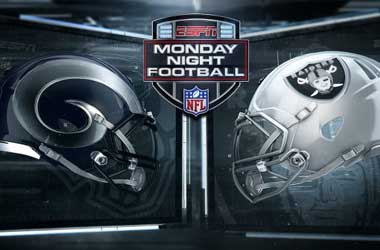 Chucky is back. And his first matchup is against his protégé in what they're calling the Gruden Bowl as Jon Gruden making his long anticipated return from the booth to the sideline.
On the other sideline will be the youngest Head Coach in NFL history, Gruden's former mentee and student.
Sean McVay, boy genius and offensive mastermind attributes a lot of his success to Jon Gruden, and Gruden gave McVay his first coaching job in Tampa Bay, as a receivers coach in 2008.
Here are also two teams who have been in the news a lot this offseason.
The Rams received a lot of publicity, as well as criticism for their very liberal approach to the 2018 offseason, pulling off multiple trades for cornerback Aqib Talib, cornerback Marcus Peters, and wide receiver Brandin Cooks, as well as signing a polarizing defensive tackle Ndamukong Suh in free agency.
The Rams also locked up generational talents long term at running back and defensive tackle in Todd Gurley and Aaron Donald, respectively.
The Raiders also made a lot of headlines, bringing in talented but aging players such as receiver Jordy Nelson, linebacker Derrick Johnson, running back Doug Martin, and defensive back Leon Hall. The biggest piece of news however, was the Raiders mishandling of the Khalil Mack situation. Instead of paying the generational Edge Rusher, the Raiders opted to trade Mack to the Bears, accumulating 2 extra 1st round picks over the next 2 years.
The Rams are favored by 4.5 at MyBookie, with the Over/Under posted at 47.5.
The Rich Eisen Show
Los Angeles Rams
The Rams come into the 2018 season with Super Bowl aspirations. After leading the league in Points Per Game last season, the Rams fell flat in their playoff game against the Falcons, and decided to reload their defense in hopes of making a deeper run this season.
Quarterback Jared Goff looked like a new man in year 2 under McVay, averaging almost 3 more Yards per Attempt. Goff returns the same offensive line as last season, and maintains a lot of his receiving weapons.
Sammy Watkins was supposed to be the Rams #1 option and deep threat last season, but was underwhelming, posting just 600 yards and 8 TDs. The Rams moved on from Watkins in the offseason, and traded for a certified deep threat in the explosive Brandin Cooks.
Todd Gurley looks primed for another run at Offensive Player of the Year, coming off a season in which he posted 19 total touchdowns and over 2000 yards from scrimmage. Gurley should take advantage in Week 1 against a subpar Raiders defense. The Rams revamped their defense, and now boast one of the best secondaries in football. With Marcus Peters and Aqib Talib holding down the corners, LaMarcus Joyner and John Johnson are free to roam and make plays at safety.
Up front, the Rams decided having the best defensive tackle in football wasn't enough, and had to pair him with another stud in Ndamukong Suh. With Aaron Donald and Suh pushing the pocket, the Rams young edge rushers like Samson Ebukam and Dominique Easley will have plenty of opportunities as well.
Injuries and Inactive Watch
LB Mark Barron (ankle)- DNP Saturday, not expected to play OG Jamon Brown (suspension)- will not play
Oakland Raiders
Jon Gruden is back and looking to turn the Raiders around in the first year of his 10 year contract. In 2016, the Raiders were 13-3, featuring one of the best young Quarterbacks in the league in Derek Carr, and a Defensive Player of the Year in Khalil Mack. Last season was not as fruitful, with the Raiders falling to 6-10, and subsequently fired Jack Del Rio, brought Gruden in, and shipped Mack out.
The Raiders face an uphill battle this season, but Gruden's offensive mind should not be underestimated. He was regarded as one of the best playcallers in the league before his departure from coaching 10 years ago. Now Jon Gruden has had 10 years of studying modern NFL offenses, combining concepts with his own, and is now ready to retake the league by storm.
There's no doubt Derek Carr is one of the best young quarterbacks in the league, and after a down year, he has a new target in Jordy Nelson. Nelson has been one of the best possession receivers in the league, and should become an instant favourite for Carr, especially on 3rd down
The Raiders also feature one of the best offensive lines in the league, with talents like Gabe Jackson, Kelechi Osemele and Rodney Hudson manning the interior. They also took a high upside tackle in the 1st round in Kolton Miller, who has been impressive enough to earn the starting left tackle spot, kicking Donald Penn to the right side. The defensive side of the ball is a bit of a question mark following Khalil Mack's departure. The secondary features young unproven talents in cornerback Gareon Conley, who missed last season, and safety Karl Joseph.
Up front, the Raiders are average, but experienced. Edge rusher Bruce Irvin has shown flashes in his career, and comes off a year in which he posted 9 sacks. Linebacker Derrick Johnson comes over from Kansas City, and < a href="http://www.profootballhof.com">could be a future Hall of Famer, but is up there in age at 36.
Injuries and Inactive Watch
RB Marshawn Lynch (groin)- limited Friday and Saturday, expected to play
OG Kelechi Osemele (back)- limited Friday and Saturday, expected to play
LB Tahir Whitehead (ankle)- full participant Friday and Saturday, expected to play
Matchups to Watch
Rams RBs/TEs vs. Raiders LBs/S
Rams WRs vs. Raiders CBs
Raiders Interior OL vs. Rams DTs
Raiders WRs/TEs vs. Rams Secondary
Predictions
The Rams high-powered offense hangs at least 30 on the Raiders. A lot has been made of the Rams resting their offensive starters all offseason, but I don't believe it will matter against this defense, especially when you consider McVay's aptitude for making his offenses mesh.
The Rams passing game may start slow, but moving the ball should not be an issue with Todd Gurley in the backfield. I look for Gurley to have a huge game, taking advantage of Khalil Mack's absence in a heavy outside zone approach, along with some designed screens to get him into space.
The Raiders offense may find success running the ball early, with Marshawn Lynch attacking downhill against the Rams penetrating front line. The Rams struggled against the run last season, and while I expect that to improve, it may still be a weakness for
this defense.
Derek Carr and the receivers may struggle to find windows against this secondary however. If the offensive line gives him ample time to throw, I believe Carr and the Raiders will be able to move the ball with short timing routes over the middle to Amari
Cooper and Jordy Nelson.
All in all, we think the Rams offense will be too much for this patchwork Raiders defense to handle. I think the Rams defense makes a few plays as well, and the Rams push winning by double digits. We are confidently taking the Rams to cover handily.
Final Pick: Rams (-4.5)