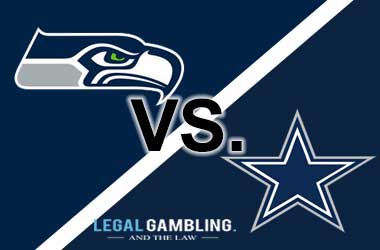 The #4 seed Dallas Cowboys host the #5 seed Seattle Seahawks in the NFC wild card round this Sunday. The Cowboys lead the all time series 10-9, but have lost 3 straight head to head against the Seahawks including a 24-13 loss in September.
The Seahawks defeated the Cardinals 24-13 to wrap up their season. In week 15, they lost 26-23 to the 49ers, and in week 16 they beat the Chiefs 38-31.
The Cowboys defeated the Giants 36-35 in week 17. In week 15, the Colts shut them out 23-0, and in week 16 they beat the Buccaneers 27-20.
The Cowboys have opened as 3 point favourites with GTBets, with an O/U total of 42.
Seattle Seahawks
(10-6 overall, 4-4 on the road)
The Seahawks offense has dominated on the ground this year and look to carry that success into the postseason against a great Cowboys front 7. Russell Wilson has thrown for 3448 yards, 35 TDs and 7 INTs while completing 65.6% of his passes and averaging 8.1 YPA. Tyler Lockett has been a pleasant surprise at receiver, catching 57 balls for 965 yards and 10 TDs while Doug Baldwin has supplemented him with 50 catches for 618 yards and 5 TDs. Chris Carson leads the rushing attack with 247 carries for 1151 yards and 9 TDs. Mike Davis (112/514/4), Rashaad Penny (85/419/2), and Russ Wilson (67/376/0) are heavily involved as well.
The Seahawks scoring defense ranks 10th allowing 21.7 PPG. Their pass defense is ranked 16th, allowing 240.1 yards per game and 26 TDs through the air while their pass rush is ranked t-11th with 43 sacks. Their run defense ranks 13th, allowing 113.2 yards per game and 9 TDs on the ground. Their defense has forced 24 turnovers.
Dallas Cowboys
(10-6 overall, 7-1 at home)
The Cowboys offense is much like Seattle in that they rely on the ground game to set up the pass. Dak Prescott has thrown for 3885 yards, 22 TDs, and 8 INTs while completing 67.7% of his passes and averaging 7.4 YPA. Amari Cooper has changed the Dallas offense, and on the year has caught 53 balls for 724 yards and 6 TDs with the Cowboys. Cole Beasley (65/672/3) and Ezekiel Elliott (77/567/3) are heavily featured as well. On the ground, Elliott will be well rested after sitting out week 17, and has rushed for 1434 yards and 6 TDs on 304 carries this season. Prescott is involved on the ground as well with 75 carries for 305 yards and 6 TDs on the year.
The Cowboys scoring defense ranks 6th in the NFL allowing 20.2 PPG. Their pass defense ranks 13th allowing 234.7 yards per game and 22 TDs through the air while their pass rush is ranked t-16th with 39 sacks. Their run defense ranks 5th, allowing 94.6 yards per game and 12 TDs on the ground. Their defense has forced 20 turnovers.
Predictions
These 2 teams are carbon copies in a lot of ways; mobile quarterback, run heavy offense, good defense, but there are a few distinguishing factors. The Seahawks offense can become overreliant on the run game and become too predictable, which can be devastating against a Dallas defense predicated on playing simple and outmuscling you. The Seahawks should not be ale to pound away at the Cowboys as well as they have against other teams this season. On the back end, the Cowboys have the secondary speed necessary to slow down Tyler Lockett and Doug Baldwin.
The Cowboys offense as always will run through Ezekiel Elliott, but Bobby Wagner will be in his hip pocket all game. Up front, the Cowboys have people movers, and should be able to clear running lanes for Zeke however. Amari Cooper is the X-factor, as the Cowboys didn't have him the last time these 2 teams met. The Seahawks lack strong coverage players, and they don't have anyone who can shut him down. In a game as big as this, Dak Prescott will funnel targets to his #1 guy, and if Cooper can create after the catch then the Seahawks will be in trouble. This game will be back and forth and tightly contested all the way through, but ultimately the Cowboys should win at home to advance.
Final Pick: Cowboys (-3)