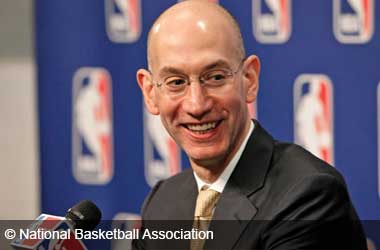 The National Basketball Association's (NBA) commissioner, Adam Silver, is in the midst of making a decision that will have tremendous consequences for a lot of people involved with the NBA.
Despite subtle signs from the U.S. government that it would allow the league to plan for their 2019-2020 season's resumption, there is no indication that explicit approval from public health experts will be given in the foreseeable future.
The NBA was the first sporting league in America to shut down due to COVID-19 concerns.
In a conference call with NBA players on May 8, Silver disclosed that there is an element of risk involved if the league does decide to re-open, admitting that it was beyond his capabilities to assure the thousands of people involved in NBA games that they will not be stricken with the coronavirus.
Silver is reportedly going to wait in line for the COVID-19 test kits to be given to the NBA which it will need to re-open. He has decided against spending considerable money and use his influence to jump the line. The number of tests involved is likely to be massive, as the every player, team executives and staff, and arena employees will have to be tested regularly.
ESPN
Games will have to be staged in just one location to control the playing environment. All involved individuals will be located for the several weeks needed to play out the season. The games will not contain any fans, due to the continued prohibition on large crowds—the earliest estimate for the lifting of this ban is August.
NBA Commissioner In A Tough Place
Silver was upfront about the impossible position he is having to face, given the conflicting opinions among the league's stakeholders on how best to proceed. If Silver cancels the entire season, he expects some pushback from individuals due to the negative economic impact they will face. If Silver decides to resume, he can also expect criticism from those who believe that he values money more than the safety of players.
It is clear that, whatever he decides to do, Silver who has so far enjoyed a relatively uncontroversial tenure in his six years as commissioner will finally have to make a tough choice that is sure to be unpopular with significant portions of the league.
For now, the NBA is stuck in uncharted waters with the rest of the mainstream professional sports leagues. Silver will have to work with the NBA Players Association to plan for a possible return, but be ready to jettison the entire season if the pandemic does not abate in the near-future.