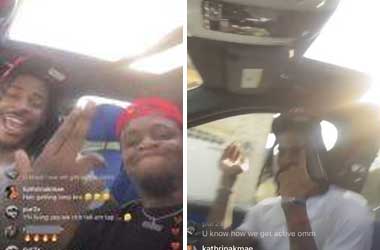 Summary
Ja Morant's fate will be made public after NBA Finals
The Memphis Grizzlies guard was caught for a second time with a gun on video
NBA Commissioner says they also have new info on Ja Morant
Memphis Grizzlies fans are keen to know what is going to happen to star player Ja Morant who was caught on video for the second time this year playing with a gun.
The first time Morant was caught with a gun was during a live Instagram stream from a strip joint in March 2023.
Morant was suspended by the Grizzlies and he apologized for his actions, stating that he will use the downtime to get help and become a better person. The 23 year old was once again caught on an Instagram video playing with a gun in May 2023 and received a lot of backlash on social media for being irresponsible and throwing away his NBA career.
Grizzlies star Ja Morant was allegedly seen holding a gun on an IG Live yesterday.pic.twitter.com/bqvwbwgd9m

— ClutchPoints (@ClutchPointsApp) May 14, 2023
NBA Commissioner Confirms Decision After Finals
NBA Commissioner Adam Silver told media that he had looked into the incident and made a decision regarding what disciplinary action Morant will face. Silver said that he will wait till the NBA finals are done before announcing what action the NBA will take against Ja Morant.
In a statement, Silver said
In terms of the timing, we've uncovered a fair amount of additional information since I was asked about the situation. We probably could have brought it to a head now, but we made the decision — and I believe the players association agrees with us — that it would be unfair to these players and these teams in the middle of this series to announce the results of that investigation.
Ja Morant Likely To Face Serious Penalty
Morant received an 8 game suspension for his first video with the gun and is now likely to receive a very serious penalty from the NBA as it's clear he did not learn his lesson. Silver said that the NBA looks at a player's history before they determine what disciplinary action they will take.
Morant's history does not look as there are reports of multiple gun incidents involving Morant in the past. After the first incident, Silver said that he spoke to Morant who told him he has learnt from his mistake and took responsibility for his actions.
Ja Morant is now on an indefinite suspension and will have to wait to learn what his future holds in the NBA.