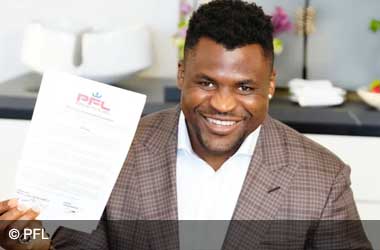 Summary
Ngannou confirms exclusive contract with PFL
The PFL deal will allow Ngannou to box and compete in MMA
Ngannou has also been hired as the new PFL Africa Chairman
Former UFC heavyweight champion Francis Ngannou received a lot of flak on social media during the last few months as multiple MMA promotions such as ONE, BKFC and Bellator dropped out of signing the baddest man on the planet.
MMA fans thought Ngannou made a mistake leaving the UFC as none of the other MMA promotions were able to offer him a lucrative financial contract. Ngannou has now confirmed he has signed an exclusive agreement with Professional Fighters League (PFL).
PFL and Ngannou Sign Exclusive Agreement
With UFC, ONE, BKFC and Bellator off the table, it mean only the PFL were in the running to sign Ngannou and hence it came as no surprise when Ngannou announced that he has signed an exclusive agreement with the PFL that will allow him to compete in MMA and boxing.
Ngannou did a lengthy interview with top MMA journalist Ariel Helwani and opened up about his contract negotiations with ONE, BKFC and Bellator and what went wrong. He said it made good business sense for him to sign with PFL as their visions and goals were aligned at this point in time.
Ngannou also took to social media to silence his doubters and haters with quotes saying
I am not a business man, I am a business, man'!
I'm not a businessman, I'm a business, man ♟️ pic.twitter.com/ED9wZY0Vz0

— Francis Ngannou (@francis_ngannou) May 16, 2023
Ngannou's deal with the PFL is not a usual MMA contract that involves the fighter getting a certain amount. Ngannou's deal also guarantees that whoever fights him in MMA will receive a minimum of $2 million for each fight.
Ngannou – New PFL Africa Chairman
The PFL contract will also result in Ngannou becoming the new PFL Africa chairman. Ngannou who was born and raised in Cameroon continues to visit his country on a regular basis and is very keen to do more for African MMA fighters.
Ngannou said one of the reasons why he signed with the PFL was not only because they offered him more than other promotions but they looked at him as a business partner and wer open to accommodating his requests.
Ngannou is likely to having a boxing match in 2023 under the PFL banner and will have his first MMA fight in 2024.