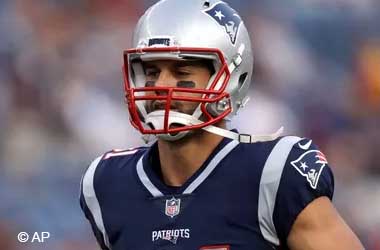 Eric Decker signed a one-year deal with the New England Patriots on August 3rd but he unexpectedly announced his retirement on Sunday.
The veteran wide receiver took to Instagram to tell his fans that he felt very fortunate to live his childhood dream.
He feels that the time is right to move on from professional football and start the next chapter in his life.
He said that he has always loved American football and wants it to remain a part of his life but he is also excited to be able to spend time with his family.
There was a bit of speculation that Decker might not have made the cut despite New England being a bit thin at the wide receiver position especially with Julian Edelman slated to miss the first 4 games of the regular season. However, coach Bill Belichick had nothing but good things to say about Decker. He praised his ability to adapt to a new system and said that he had no problems learning new formations.
Despite the kind words, Decker was reportedly having troubles with dropped passes during training camp. He went through some specialized drills to work on his catching ability prior to Friday's preseason game.
Shortly after releasing wide receiver Jordan Matthews, the Patriots felt that they needed to stabilize the position so they brought in Decker. On top of Matthews' departure, New England also got rid of Malcolm Mitchell and Kenny Britt. The Patriots also parted ways with Danny Amendola and Brandin Cooks during the off-season. Their top receiver, Julian Edelman, is suspended to start the season and he sits in front of Chris Hogan, Phillip Dorsett and Cordarrelle on the depth chart.
NFL World
Could Dez Bryant Land In New England?
Dez Bryant is still looking for a team to give him a chance since he became an unrestricted free agent in April. It appears that a few teams have kicked the tires on the veteran including the Cleveland Browns who, for the time being, appear to have lost interest. An article in USA Today indicated that Bryant was hinting that he would like to play for the Patriots. Bryant said all of the right things about Belichick and Brady.
Get ready for the dez spotted at Logan tweets.. @jerrythornton1 pic.twitter.com/WpHJ2B7xWX

— ambrose (@BostonAmbrose) August 21, 2018
Even though the Patriots appear to be a little thin at the wide receiver position, taking a chance on Bryant seems like a bit of a long shot considering that Dez still needs to get into game shape and learn the Patriots' offense.