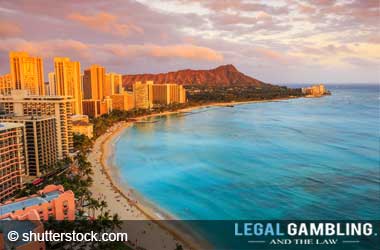 With illicit betting activities steadily creeping into the residential areas of Hawaii, the U.S. Attorney's Office in the archipelago state is doubling down on its crusade against illegal gambling.
Earlier this week, U.S. Attorney Kenji Price announced five prominent illegal gaming cases that have brought on charges against 15 defendants, the state's latest show of force in enforcing Hawaii gambling laws.
Hawaii has grown increasingly concerned about the prevalence of illegal gambling and the latest reports shows that unlawful gambling operations have started to spread into residential areas like Waipahu and Pearl City.
Of the five cases filed, two of them involve gambling operations being run from single-family homes in Oahu, Hawaii. Price has declined to comment if the offending the parties are renters or owners, citing that investigations are still ongoing.
KHON2 News
The U.S. Attorney warns that Hawaii intends to fully utilize the state's civil and criminal asset forfeiture provisions, to crackdown on these illicit operations. A special notice on asset forfeiture has begun making the rounds in Hawaii communities who are suspected of being in danger of having illegal gambling operations infiltrate their localities. This information is being disseminated by Price's office.
Asset forfeiture is an often frowned upon law enforcement tactic, firmly blasted by most civil rights groups. The American Civil Liberties Union slams the measure as often motivated by greed and profit, employed by police departments to line their own pockets. However, the law appears to be very relevant in this case as it can be a firm deterrent to home owners in Hawaii to not use their premises to host illegal gambling activities.
Price says homeowners involved in illegal gambling cases and in danger of losing property should seek legal counsel immediately.
Multi-Pronged Illegal Gambling Crusade
The U.S. Attorney's Office in Hawaii is collaborating with both local law enforcement and federal law enforcement agencies to come down hard against rampant illicit gambling in the state. The Honolulu Police Department as well as the Department of Homeland Security and its investigative arm will combine forces to crackdown on illegal gambling operations in the state.
Homeland Security Investigations has jurisdiction over transnational crime, with most illegal gambling operations in Hawaii involving currency exchanges that cross borders.
John Tobon, the acting special agent in charge of HSI for the Honolulu field office, warns that criminal syndicates abroad have begun acquiring real estate in the Hawaii capital to enable their illegal businesses to thrive.
Looking for legal gambling options in Hawaii, check out our guide here…