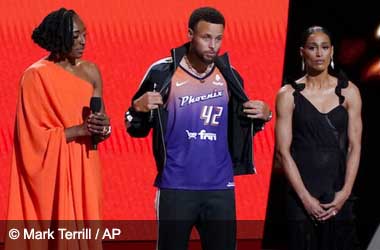 Summary
Top athletes call for Brittney Griner to be released at the ESPYs
Russia responds and says U.S is disrespecting its legal system
Russia allegedly willing to trade Griner for Russian arms dealer
Some of the top athletes and sportstars in the United States recently came together under one roof for the ESPYs which was hosted by Stephen Curry from the Golden State Warriors.
Curry along with other notable names such as WNBA star Skylar Diggins-Smith and the top female football player in the U.S, Megan Rapinoe who no stranger to social causes called for the release of Brittney Griner.
Griner has spent the last 5 months in a Russian prison after she was arrested for carrying cannabis oil for vaping. Griner has since pleaded guilty claiming that it was not intentional. Curry and those rallying for Griner's release claimed that she was innocent and needed to be released soon.
They claim that Griner is being used as a pawn in the political games that America and Russia were playing. The U.S government has put pressure on Russia in the past claiming that Griner was wrongfully detained but Russia has refused to give in and release Griner.
Rapinoe called on athletes at the ESPYs to continue to talk about Griner in the media and on social networks as everytime her name is brought up it puts pressure on Russia, President Putin and the United States.
Russia Says America Is Disrespecting Their Legal System
Russia has responded to the constant pressure being imposed by U.S media. Spokeswoman Maria Zakharova representing Russia's Foreign Ministry said America needs to show more respect for the Russian legal system. She pointed out that Griner was arrested in Russia for smuggling drugs and her guilty plea proves that she did not denied the charge.
Zakharova pointed out that while multiple states in America legalize marijuana and allow individuals to carry and use the drug, Russian law prohibits the use of marijuana and these laws need to be respected. Zakharova also said that it was important for the media to also point out that Griner is not being detained by the drug laws of California or Washington but by Russian drug laws which she breached.
There are reports that Russia is willing to release Brittney Griner in exchange for America releasing a convicted arms dealer by the name of Viktor Bout.